On February 20, Jackpocket player M.V.* in Houston got a veeeery interesting push notification from her favorite lottery app.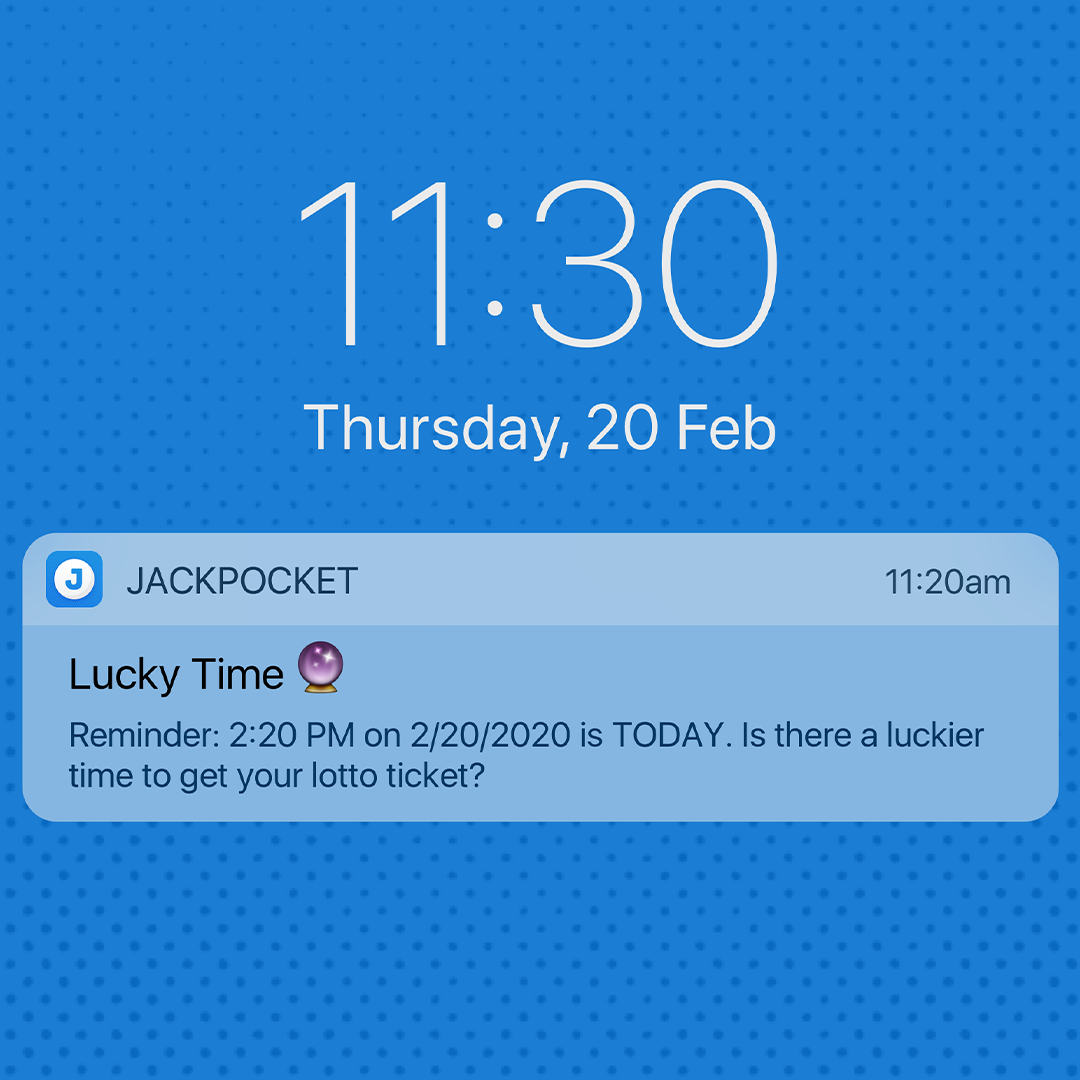 Already at lunchtime, she had seen a Facebook post from a friend about the lucky date. "I was at the office, working on [my] computer," M.V. says. "I looked at the time on my screen to see exactly 2:20 p.m."
So she decided to play.
M.V. didn't have much time to go and with $1 left in her Jackpocket account, she went with a ticket for that night's Two Step drawing. A Quick Pick because it was, well, quicker.
"It took me 30 seconds," M.V. told us. "When I was done with my ticket order and got back to [my] computer to work, the screen still showed 2:20 p.m."
A Buck and Some Luck
Spoiler alert: M.V's impromptu ticket matched all 5 numbers from the $675,000 drawing: 17 18 19 33 and the Bonus Ball 24.
M.V. was still up after the drawing, but didn't think to check results for her ticket. "Suddenly, a message popped up on my phone, 'You won big,' with check marks on all the numbers," M.V. explains.
"At first, I thought my phone got a virus or something was wrong. I carefully checked my ticket numbers and it was amazing to find all the numbers matching. I woke my husband up and had him to check to confirm. Soon after that, CEO of Jackpocket Peter Sullivan called me to notify me of my win and congratulate me."
When a player wins large prize on Jackpocket (above the threshold amount in their state), we arrange to have the physical ticket transferred to them either by delivery or in person. M.V. said she felt more "confident" filling out her mailing information for Jackpocket after speaking with our extremely excited CEO on the phone. She ultimately opted to pick up the ticket in person.
Next stop: the Texas State Lottery to claim that big check!
It was amazing to find all the numbers matching. I woke my husband up and had him to check to confirm.
How is Jackpocket's biggest winner in Texas to date planing to spend her windfall? M.V. says she wants to help those in need. "I will do some charities," she explains, "help some relatives who are in need and invest to have more chances for my kids and family as well as more chances to help [others]."
All in all, M.V says that she and her husband love the convenience of the Jackpocket app. "We don't need to go to the store for tickets when we want one. Furthermore, we don't need to come back [to the] store for claiming small winning tickets—Jackpocket does it all for us."
A huge congrats to M.V. and her family!
*Our player asked that we call her M.V. to maintain her privacy, and we were happy to oblige! (It's also why she's wearing the emoji mask.)