Get used to hearing "Is this real?" because no one will believe it at first — not your co-workers, your best friend, or even your mom. Watch Jackpocket's first millionaire Brandon Stevenson spread the good news and claim his lottery winnings in style.
Winning, Jackpocket Style
For wins up to $599 (or the threshold redemption in your state), presto! Your winnings go straight to your Jackpocket account.
But for big wins over $600, and huge ocean-liner wins like Brandon's, Jackpocket arranges to securely deliver your paper ticket, so you can claim your prize from the state lottery.
Cha-Ching! Your Ticket Won a Prize
Jackpocket automatically notifies you when you win. If you win $1M? You might just get a midnight call from Pete Sullivan, Jackpocket CEO, who will be just as stoked as you are! In Brandon's case, Pete even hopped a plane to Minnesota so he could celebrate Brandon's good fortune in person.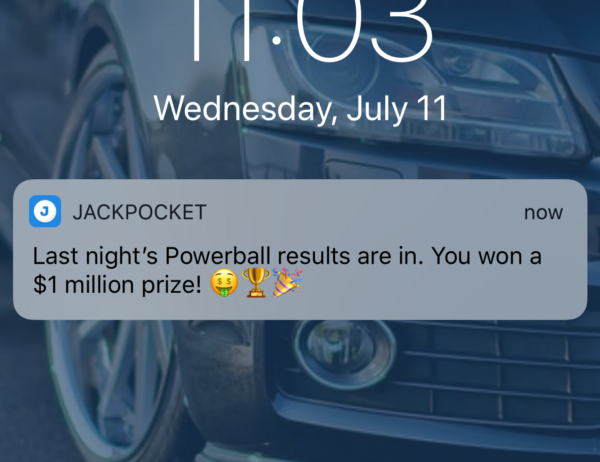 Smooth Sailing
Retrieving your winning ticket from Jackpocket is easy peasy. That's because after Jackpocket purchases your ticket, we send a digital scan to your phone and keep the original nice and safe (in a fireproof vault!). You alo get an confirmation email with your ticket serial number Read about our approach to safety and security here.
Brandon picked up his winning Powerball ticket from Jackpocket without a hitch, and then headed to the Minnesota State Lottery office to claim his winnings. We were so thrilled for him, we sent him on his way in a limo! (Pete tagged along, too.)
Hope your Audi RS 5 dreams become a reality soon, Brandon!
Want a chance to be like Brandon? Grab your Powerball ticket in the Jackpocket app or on play.jackpocket.com.