The trend of people playing Powerball online has increased over the years. Many people find that playing the lottery online fits more easily into their busy schedules, especially when they can play wherever they are right using an app on their phone. One of the most popular lottery games in America is Powerball, and it's available to play online, depending on your location.
Another option is Jackpocket's digital lottery courier service. In 16 states across the country plus Washington D.C. and Puerto Rico, you can use the Jackpocket lottery app to order Powerball tickets whenever you're ready to pick your lucky numbers. (We're even the official digital lottery courier of USA TODAY!) But that leads to the question…
Has anyone ever won the Powerball when playing online?
No one has hit the Powerball jackpot playing online...yet. But many people have won second-tier Powerball prizes, including multi-million dollar payouts, by playing the lottery online or using a lottery app.
In fact, 14 lottery fans have ordered winning Powerball tickets worth $1 million or more using Jackpocket.
Exploring the Possibility of Winning the Powerball Online
Powerball is an exciting game of chance. Drawings happen three times per week, on Monday, Wednesday and Saturday, at 10:59 PM ET. Choose 5 numbers (between 1 and 69), plus a Powerball number (between 1 and 26).
Powerball costs $2 per ticket. If you want to increase your potential non-prize amount, excluding the jackpot, you can add Power Play to your ticket for an additional $1.
Power Play increases your prize winnings by 2, 3, 4, 5, or even 10 times. The Power Play multiplier is announced before each drawing. The 10x multiplier is only available when the advertised prize annuity is $150 million or less. If you match five white numbers, the prize is an automatic $2 million.
The Jackpocket app is ready whenever you want to Powerball! Conveniently order tickets whenever you are feeling lucky — whether that's in the middle of your workday or during movie night at home. Pick your lucky numbers or choose the random Quick Pick option, just like you can in-person at the store. Join the Powerball Pool in your state or become the person who puts together your office or family pool!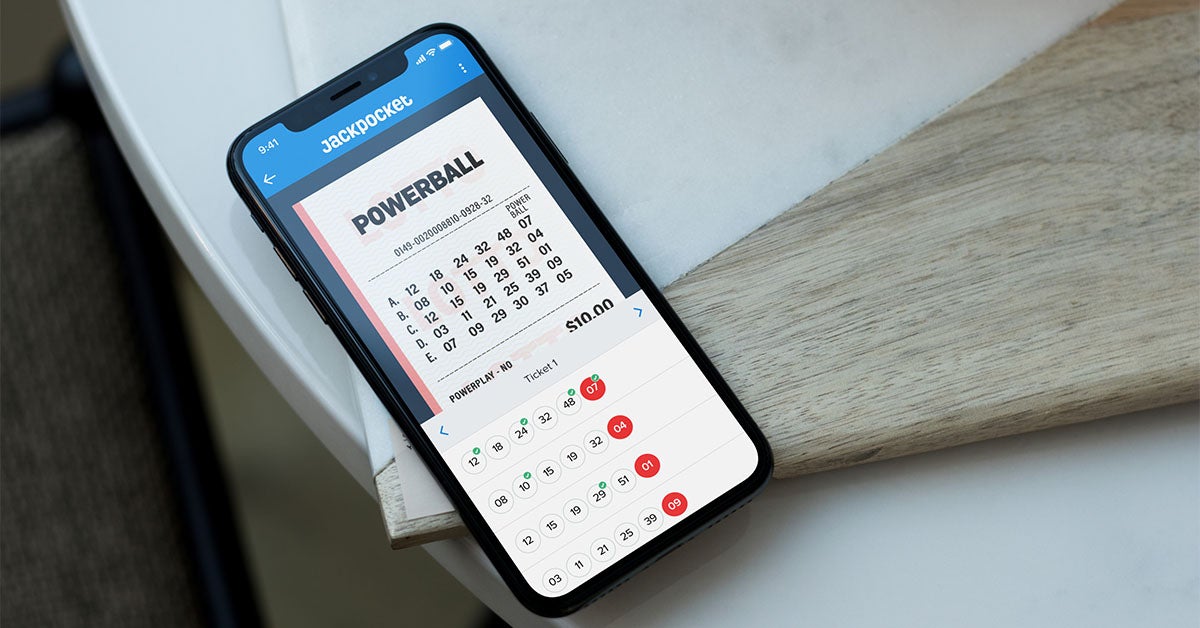 Uncovering Online Powerball Winners
If you play Powerball online, your odds of winning are the same as anyone else with a ticket. Winners are becoming more prevalent as more people conveniently order their tickets online.
So, who are the biggest Powerball winners in history? That honor goes to a lucky someone who won a $2.04 billion prize in California playing Powerball!
Some recent lottery winners across the country:
Lamonica Foreman, a 59-year-old woman who ordered her ticket online via the Michigan Lottery and included the Power Play option. She logged into her lottery account to not only discover she had picked up the $50,000 prize but also, thanks to Power Play, she actually won $200,000!

Francisco Nunez got an unexpected birthday surprise when he won $150,000 with a Powerball ticket he ordered online on the NC Lottery website. Thanks to the Power Play option, he received 3x the amount of his original winnings!

Jackpocket app user Mitchell in Minnesota took home $150,000 in Powerball winnings. He got the notification email while doing yard work and couldn't believe his eyes.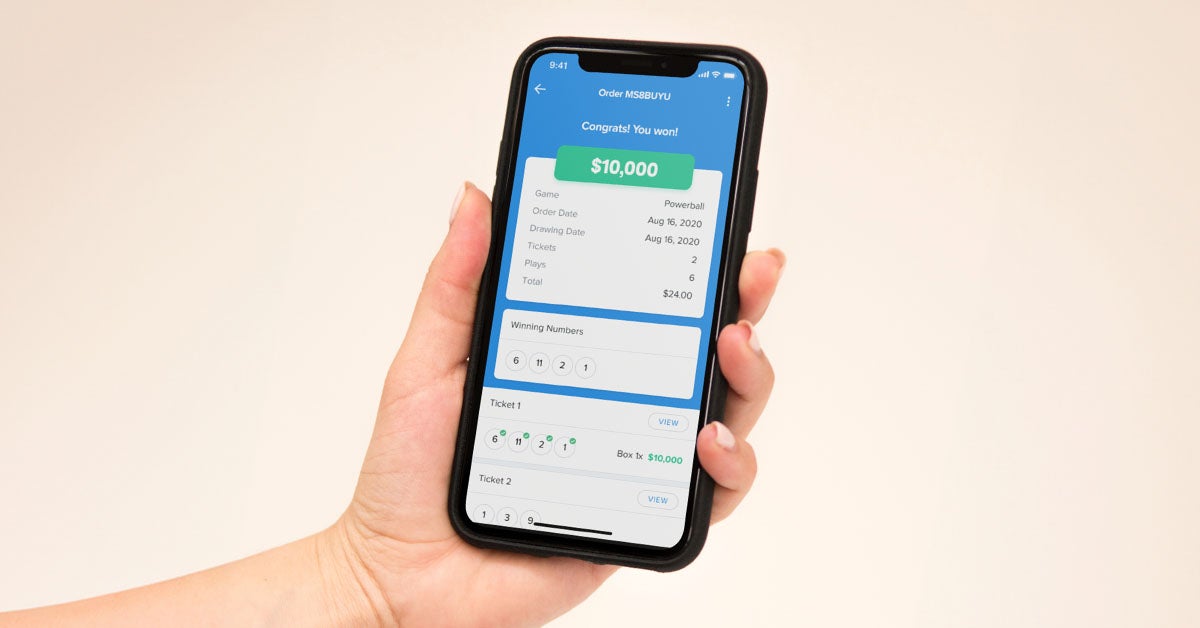 Can You Really Win the Powerball Online?
Yes! It doesn't matter if you play online or in-person at your local lottery retailer. Your odds of winning the Powerball are exactly the same. Digital lottery couriers such as Jackpocket allow you to order tickets for your favorite lottery games using your phone or computer. Have some questions about playing Powerball online and what it's like to win?
Automatic winner notifications: One of the most exciting aspects of using a Powerball app like Jackpocket is getting that "you won" notification right after you win a prize. After a drawing, Jackpocket checks your ticket against the winning numbers and notifies you automatically if you win a prize at any prize level, whether that's $2 or $2 million.
Instant winnings: Collect your Powerball prizes up to $600 instantly through the app. Win a big prize? Jackpocket arranges to securely send your ticket to you so that you can claim your winnings from your state lottery.
Easy Payouts: Transfer your lotto winnings to your bank account with a few taps. Jackpocket doesn't take anything from your winnings — whatever you win is 100% yours!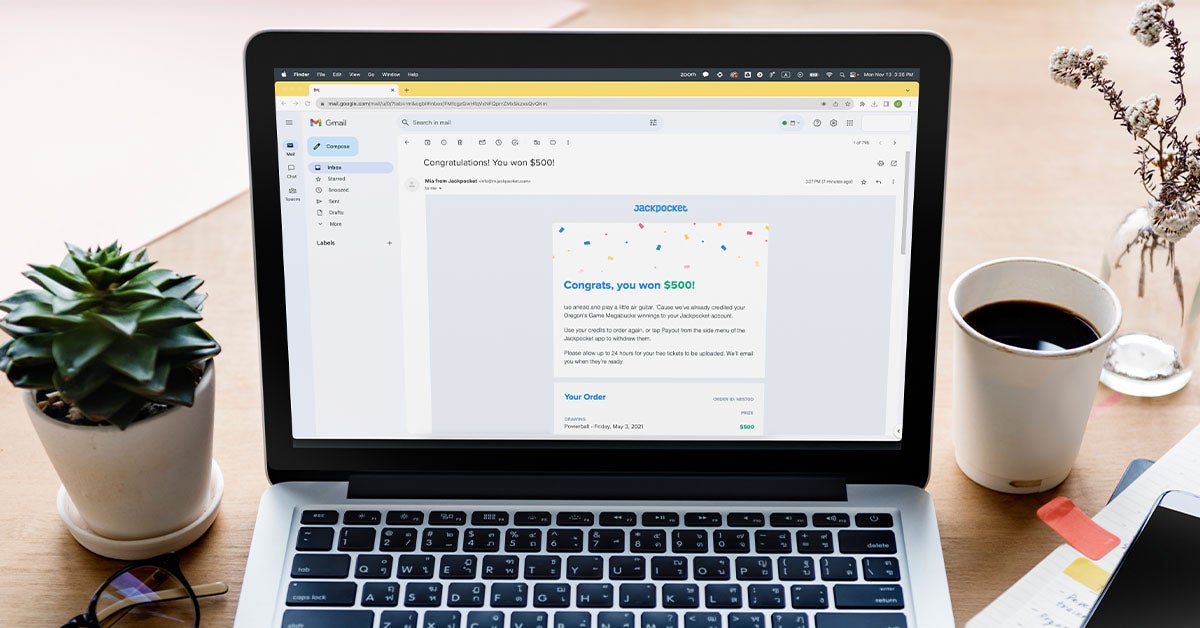 Has Anyone Ever Won with a Powerball App: Real Success Stories
The Powerball's notable history can leave you wondering if anyone has ever won the Powerball. So, let's take a look at some actual lottery winners!
Jackpocket has had several Powerball app winners who ordered winning tickets and have been featured on their local news station.
Grandma of 10 checks her phone at 3 a.m. — and learns she's a massive lottery winner." (Miami Herald).
'Now I can breathe': Ohio woman wins $1M Powerball on lottery app (Fox 8)
Corpus Christi resident hits it big with Jackpocket lottery app, plans to do charity work with winnings (KIII TV)
Best friends in Texas set up their private Powerball Pool on Jackpocket and won $50,000. (Herald-Banner)

College student wins $1M Powerball prize via app (NBC 11)

All told, 14 people have become millionaires playing Powerball and ordering their ticket with Jackpocket. When it comes to Powerball winnings, check out which states have won big.
Don't miss the next drawing for your favorite lottery games, including the Powerball! You could be the next winner when you order your tickets with the Jackpocket lottery app!