Buying Lottery Tickets Online vs. In-Store: What's the difference?
When considering ordering lottery tickets online vs. buying lottery tickets in store, is there really a difference? Many people enjoy the convenience of ordering their tickets online, while others prefer the experience of purchasing their lottery tickets in store.
The odds of winning are the same regardless of where you choose to play, so let's compare several key differences between your options.
Advantages of Playing the Lottery Online
Convenience: We all think of something we need to do at the least convenient time to do it, don't we? When it comes to ordering lottery tickets online, it just takes a few clicks on your smartphone or computer to order your ticket whenever you're inspired to play.

Account Management: Easily track numbers played, your ticket orders, and total winnings more easily. Use in-app responsible gaming tools to set a lottery budget for yourself, too!

Win Notifications: You'll know immediately if you've won without comparing numbers or knowing how many numbers you need to match to win a prize.

Quick and easy payouts: With services like Jackpocket, you can receive winnings up to ~$600 (or the lottery prize redemption threshold in your state) instantly to your account and make a payout to your bank.

Security: Is buying lottery tickets online safe? Digital lottery orders are carried out through encrypted systems that protect customer data. Ordering tickets online can reduce the likelihood of misplacing your physical ticket (or accidentally throwing it in the washer). Playing the lottery online also means you have more payment options besides cash, like Venmo, Apple Pay, and debit or credit, depending on your state.

Features: Jackpocket lottery app offer additional features like the ability to join lottery pools or turning on Smart Order so you never miss a drawing for your favorite lottery game.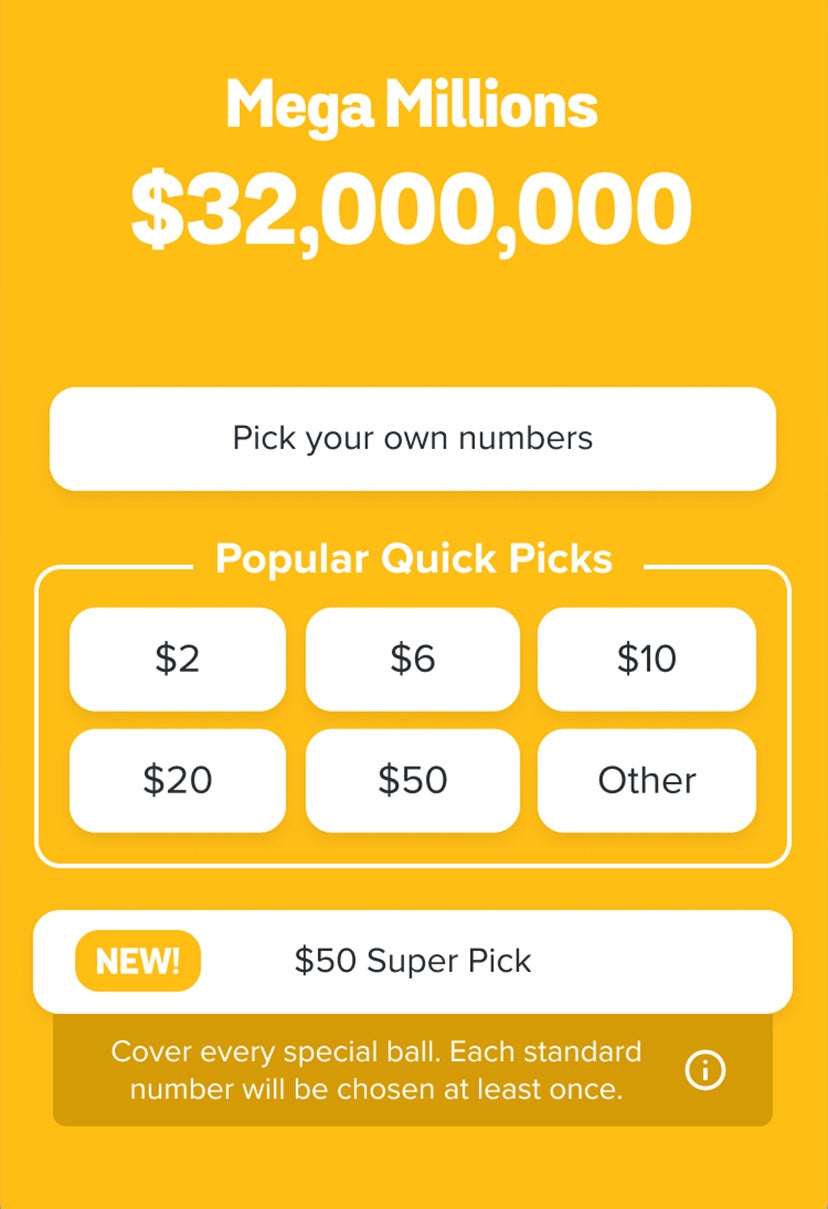 Advantages of Buying Lottery Tickets In Store
Social Interaction: Some people prefer to purchase their tickets in person rather than order online because they can interact with other customers and store staff.

Immediacy: Some may prefer to buy their ticket and hold it immediately in their hand rather than getting their ticket scan delivered to their phone.

Instant Games: Playing the lottery in store often gives you access to a variety of instant win scratch-off games. Luckily, the Jackpocket app offers scratch tickets orders in select states, too!

Support your favorite local store: If there's a specific small business in your neighborhood or city that you want to support, you may prefer to get your lottery tickets from them.

Cash: For those who prefer to use cash to purchase tickets, this can help prevent overspending as you have a finite amount of bills on hand at a given time.
So you can easily see the advantages of each when you consider buying lottery tickets online vs. in store.
Is it Safe to Play the Lottery Online?
So, you're wondering, is buying lottery tickets online safe? Yes! In fact, in some ways, it can be more secure than purchasing lottery tickets in the store.
With a lottery courier app like Jackpocket, you don't need to worry about remembering to check your ticket to see if you're a winner. When you order lottery tickets online with Jackpocket, the secure platform will let you know automatically if you've won. Also, depending on the amount won, you may not need to take a trip to the lottery office or a lottery retailer to claim your prize. Smaller prizes under ~$600 are instantly credited to your account, and you can transfer the money to your personal bank account at any time.
What about larger prizes that require a trip to the lottery office to claim? Jackpocket keeps your physical lottery ticket securely stored in a locked, fireproof vault. If you win a large prize, Jackpocket transfers the physical ticket to you so you can claim the lottery prize from your state lottery.
When it comes to funding your lottery app account to order your tickets online, there are security measures in place to help protect your personal information and account numbers from unwanted eyes.
Do Online Players Win the Lottery?
If you're still curious about whether buying lottery tickets online vs. in store is better, you're probably asking, does it matter where you buy a lottery ticket? Whether playing the lottery online or offline, everyone's ticket has an equal chance of winning.
Over the years, lottery winners have taken home over $350 million in prizes using Jackpocket. From a Nebraska teacher who won $25,000 a year for life to an Ohioan who won with a recent $1 million Powerball ticket, people have been lucky enough to win big.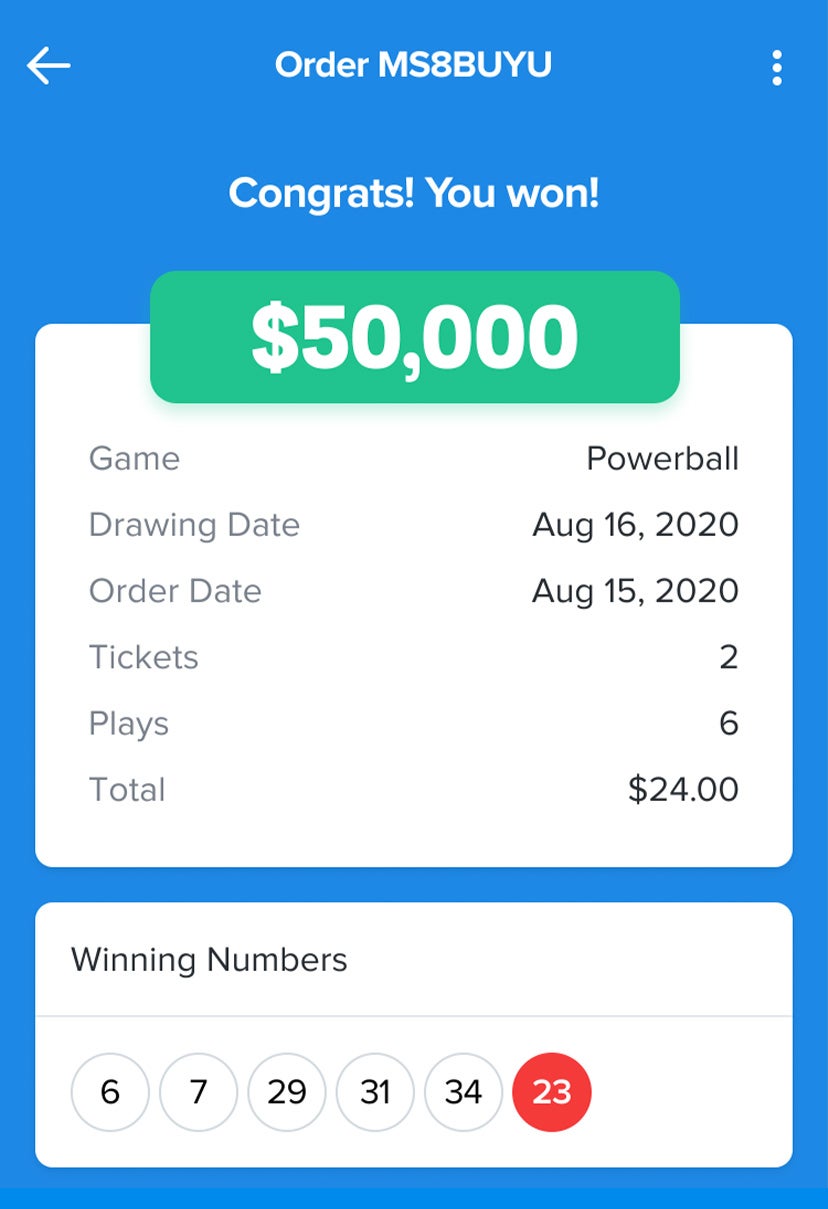 How do you play the lottery online?
So, we've established that ordering lottery tickets online is a great alternative to purchasing tickets in person, but how do you order lottery tickets online?
With Jackpocket, ordering a lottery ticket is simple. Whether you download the mobile app or order your tickets online from your home computer, the process is the same.
Fund your Jackpocket account. Easily add funds to your account with PayPal, Venmo, Apple Pay, ACH, or even credit and debit cards, if that option is available in your state. There is a small service fee that Jackpocket charges when you fund your account, but that is the only fee we will ever charge. There are no additional fees for transferring your winnings to your bank account, and we do not take a percentage of your winnings.

Choose your game and numbers. Participate in your local state lottery games, or join in national games like Powerball or Mega Millions. Pick your lucky numbers, or opt for a Quick Pick with random numbers. The choice is yours!

Place your order. When you place your order with Jackpocket, we secure your ticket from an authorized lottery retailer on your behalf.

Get your ticket delivered digitally. See a scan of your ticket right in the Jackpocket app and get an email confirmation with your ticket's serial number.

Receive winnings You've won! Now what? If your prize is approximately $600 or less, Jackpocket will instantly credit your account with your prize. You can then transfer the winnings to your bank account or use them to keep ordering. If the prize is larger than $600, we will arrange to securely send your ticket to you so you can claim your prize with your local lottery commission.


What Lotteries Can I Play Online?
That sounds great, but what lottery games can I play online? If you are physically located in a state that Jackpocket supports, you will be able to use the app to place lottery ticket orders! Jackpocket is available in 18 states and locations, including Arizona, Arkansas, Colorado, Idaho, Massachusetts, Minnesota, Montana, Nebraska, New Hampshire, New Jersey, New Mexico, New York, Ohio, Oregon, Puerto Rico, Texas, Washington DC, and West Virginia.
In Summary
However you play is a personal preference. It's completely up to you. So whether you would be buying lottery tickets online vs. in store, both options are equally awesome!