Playing the lottery online makes it convenient for lottery lovers to participate! And just because you're playing online versus getting your ticket in person doesn't decrease your chances of winning. With a lottery app, you can play all your favorite local lottery games in your state, along with Powerball and Mega Millions. Wondering what states allow you to buy lottery tickets online? Read on to see in which states you have the green light!
List of States Where You Can Make Lottery Orders Online
There are 18 states and jurisdictions where you can make lottery ticket orders online using Jackpocket, a lottery courier app. These locations are:
There are 18 states and jurisdictions where you can make lottery ticket orders online using Jackpocket, a lottery courier app. These locations are:
Lottery lovers physically located in these states can place ticket orders for their favorite games using Jackpocket's secure platform. Order at home from your computer or get your tickets using the app while on the go! With Jackpocket, you can pick your numbers online, grab a Quick Pick, or join lottery pools with others in your state.
There are also a handful of state lotteries that offer an iLottery option. Those states include: Georgia, Illinois, Kentucky, Michigan, New Hampshire, North Carolina, North Dakota, Pennsylvania, Virginia, plus Washington, D.C.

Benefits of Playing the Lottery Online
Now that you're no longer wondering in what states you can play the lottery online, you probably want to know if playing online has any benefits.
What about convenience? That's a pretty big benefit in our book.
Picture this scenario. You're at your desk at work, and learn about the rising Powerball jackpot. You daydream about winning the lottery. There's just one problem. You're at work and can't leave at that moment. But wait! You don't need to go anywhere because you have Jackpocket! You quickly pull out your phone and make your lottery ticet order. No muss, no fuss.
With Jackpocket, you don't need to worry about when to order your ticket for that $1 billion Mega Millions drawing. The ordering platform is secure, and your physical ticket is kept in a fireproof safe. If you win a prize over ~$600 (the redemption threshold in your state), it's securely transferred to you so that you collect your winnings from your state lottery. Know automatically if you've won because Jackpocket checks your ticket against every possible prize and notifies you after the drawing if you've won.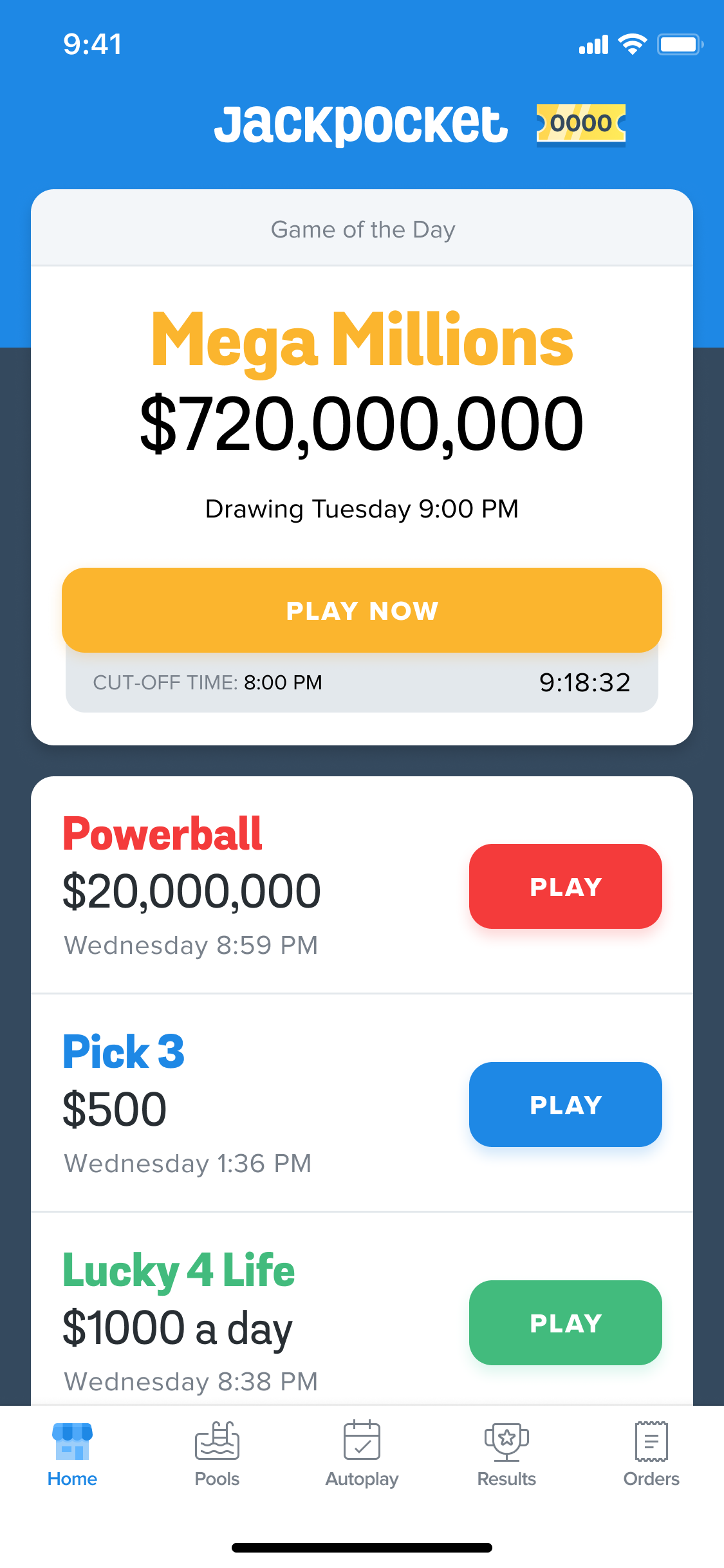 Some additional benefits of playing the lottery online include:
Automatic winner notifications: We will notify you if your ticket wins any prizes.

Instant winnings: Receive your winnings up to $600 automatically in the app. Use them to order future tickets or transfer to your bank (with no additional fees attached).

Smart Order: Never miss your favorite lottery games with Smart Order. Set up automatic lottery ticket orders through the app when your favorite lottery games exceed a certain amount (such as $300 million for the Mega Millions game).

Giveaways galore: Enter a Jackpocket giveaway right in the app, and all your lottery ticket orders count as extra entries! Even if your ticket doesn't win a prize, you could still win a vacation, concert tickets, VIP sports passes and more.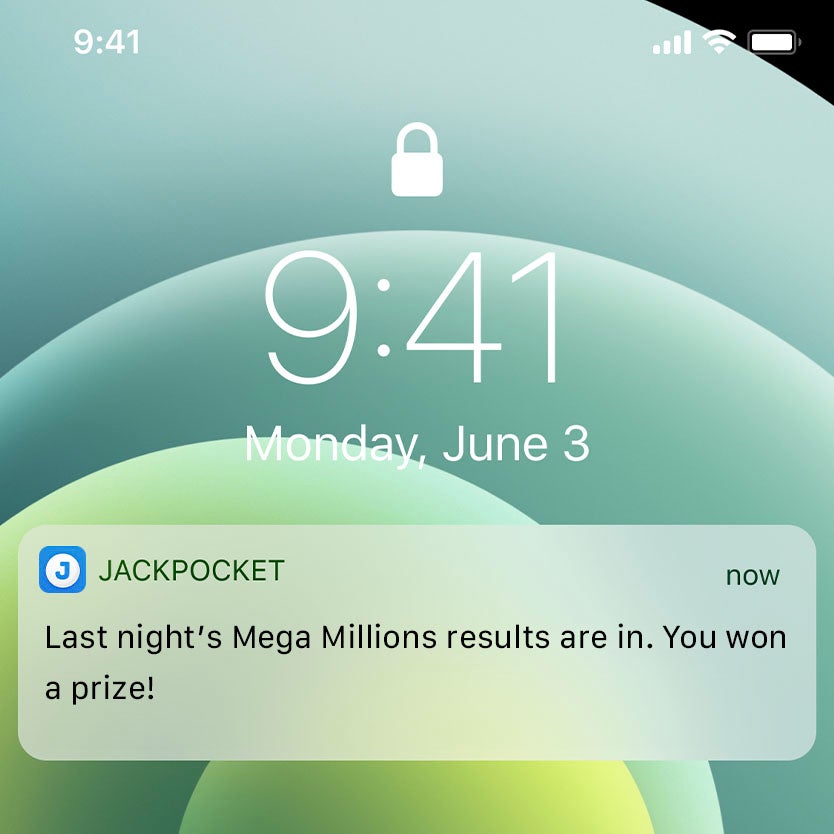 What Lotto Games Are Available To Order Online?
Now that the "What states can you play the lottery online" question has been answered, you're probably wondering what games are available. It depends on the state you are located in.
If you're wondering if you can buy lottery tickets from another state online, the answer is no. You must be physically present in the state you are ordering your ticket from. Here are some examples of all the lottery games available to order on Jackpocket:
New Jersey:
The New Jersey lottery has been thrilling players since 1970, and Jackpocket launched there as the state's first registered lottery courier in 2019. Over the years, many games have been added to the list of available New Jersey lottery games. Ordering from the Jackpocket app? Take your pick:
Mega Millions

Powerball

Cash4Life

Pick-6

Jersey Cash 5

Pick 3

Pick 4
New York:
The New York lottery has been around since 1967, when the first lottery tickets were drawn in a raffle format! Many tickets were drawn out of a drum by State Tax Commissioner Joseph H. Murphey, and since then, the format has continued to evolve. Jackpocket launched as the state's first licensed lottery courier service in 2021. Tickets for these lottery games are available to order online using Jackpocket:
Mega Millions

Powerball

Cash4Life

New York LOTTO

Pick 10

Take 5

Win 4

Numbers
Texas:
Texas was a latecomer to the lottery game, not jumping on the bandwagon until 1992. The goal was to provide revenue to the Foundation School Fund as well as other projects. The Texas lottery started with scratch-off tickets and has since progressed to the lottery as we know it today, with both draw games and scratch-offs. Jackpocket lottery app launched in the Lone Star State in 2019. Try your luck in Texas with these games available on Jackpocket:
Mega Millions

Powerball

Lotto Texas

Texas Two Step

All or Nothing

Cash 5

Daily 4

Pick 3
These are just some examples of the states and games that are available. States with lotteries have their own local state games besides Powerball and Mega Millions.
When you play the lottery online, not only are you ordering a ticket with the hopes of winning, but you're also helping your state lottery fund essential state programs such as education, veterans services, natural resources, and more. You can potentially benefit from playing, as well as your state!
Remember, it's important to play responsibly. Set yourself up for success by setting a budget for lottery play. The lottery is a lot of fun, but it shouldn't be viewed as a source of income. Know your limits and play within your means.
Download Jackpocket or order online at play.jackpocket.com to play your favorite numbers today! You can even set your app up to order tickets for you automatically for drawings for specific games or specific draws, so you never miss out!