Just in time for Friday's $340 million Mega Millions jackpot, Jackpocket officially launches in New Jersey!
For the first time ever, people in New Jersey can play their favorite NJ lottery games, join lottery pools with other players, and get the latest drawing results — right from their smartphones.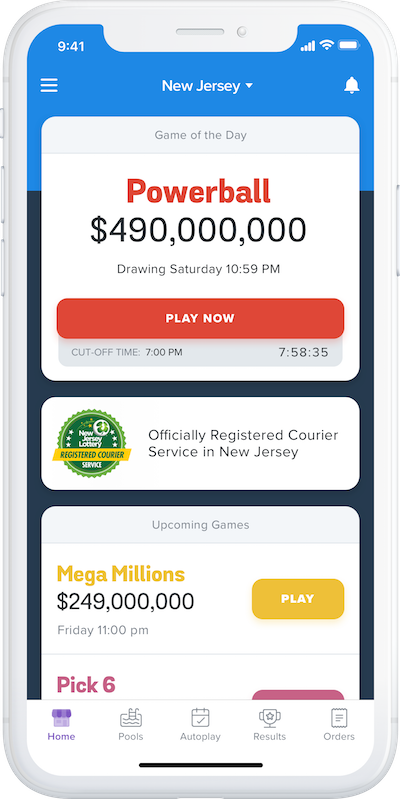 From Jackpot Games to Lottery Pools…
We support Mega Millions, Powerball, and Cash4Life, plus Jersey's own Pick-6. Jersey players can join our massive public lottery pools with thousands of fellow Jackpocket players across ALL our supported states. Or start your own Private Pool with just your friends and family.
How Jackpocket Works
Jackpocket is the first registered lottery courier service in New Jersey. We offer players a secure platform to order NJ lottery tickets. Here's how it works:
Place your ticket order in the app. Jackpocket then buys your lottery ticket on your behalf from an affiliate partner that is an official NJ Lottery retailer.
We'll send a scan of your ticket, front and back, to the app so you never have to worry about losing it.
You'll also get an email with the ticket serial number, which has been digitally "locked" to your identity. The paper ticket gets stored in a fireproof safe. When it comes to your lottery ticket, we're not messing around!
Next, we'll notify you if you're a winner. Jackpocket even deposits prize winnings under $600 directly into your account.
Who can play the New Jersey Lottery on Jackpocket?
Residents, commuters, tourists…if you're physically located in New Jersey when you place a ticket order, then you're good to go. So make sure your buddy planning their annual ski trip knows all about us!
Jackpocket players have won $5 million to date — and over $3 million in 2019 alone. We can't wait to meet our next big Jersey winner. Help us spread the word!