You asked the Googleverse. We're answering the call. Here are answers to the top questions people have about the Jackpocket lottery app.
1. Is Jackpocket legit?
A lot of people are skeptical when they first hear about Jackpocket, and we don't blame them. But Jackpocket is 100% legit. We are a lottery courier service that secures lottery tickets on behalf of our customers. (Think of us like Seamless for lottery tickets). We've been around since 2013 and have an A+ rating with the Better Business Bureau.
We're also an Associate Member of the North American Association of State and Provincial Lotteries (NASPL) and are certified for responsible gaming by the National Council on Problem Gambling.
Check out some of our players who've won lottery prizes, big and small. We've even had 13 individual Jackpocket players win prizes worth a $1M or more.
2. Is Jackpocket safe?
Yes! Jackpocket provides you with a secure platform to order your tickets. For each order, you'll receive an email with your receipt, a push notification and email when your ticket has been secured, and you can even see a picture of your physical ticket in the app. The Jackpocket app also automatically notifies you if you've won a prize, so you never miss out on your winnings.
Here's how it works:
Jackpocket staff fufill your order by purchasing the lottery tickets on your behalf from a licensed retailer in your state. We send a high resolution scan of your paper ticket — front and back — for you to view in the app. For each order, you receive an email with your ticket serial number, which is your assurance that the ticket was purchased. The paper ticket is securely stored in a locked, fireproof vault.
3. Is Jackpocket legal?
Yes. The Jackpocket app allows users to order lottery tickets that are then fulfilled on their behalf at a licensed lottery retailer. It's no different from texting a friend to pick up a ticket for you!
Jackpocket complies with all applicable state laws and regulations. For example, we verify the age and identity of our users before any play is allowed. And Jackpocket validates the geo-coordinates of a player's device, ensuring it is within state boundaries, for each and every order. Learn about the app's security features here. Our compliance technology and policies are certified by both Gaming Labs International and the National Council on Problem Gambling.
4. What happens if I win on Jackpocket?
We check lottery results in real time and automatically notify you if your ticket wins any prize:
If your ticket wins a small prize (up to the threshold amount in your state), we credit your prize winnings to your Jackpocket account. From there, you can use them to keep playing or transfer them to your bank account.
If your ticket wins a large prize, we arrange to have your paper ticket securely delivered to you (remember that fireproof safe?) so you can claim your prize from the state lottery.
Which brings us to your follow-up question…
How do I know Jackpocket won't just steal my ticket?
Rest assured that the lottery ticket you order using Jackpocket is all yours. The email receipt and ticket scans, which both include the ticket serial number, are proof that you are the one who ordered the ticket. We are holding onto the ticket for you, and we are obligated to credit your account if the ticket wins under $600 and to give you the ticket if it wins $600 or more. (See our Terms of Service here.)
Watch how easy it was for Brandon to retrieve his $1 million Powerball ticket from Jackpocket and claim his prize with the Minnesota State Lottery:
5. What are Jackpocket's fees?
We charge a small service fee when you transfer funds to your Jackpocket account. The fee is always visible beforehand.
There are no other fees whatsoever. No fees to sign up, no fees on top of the price of a ticket, and no fees for payouts. Players keep 100% of their winnings.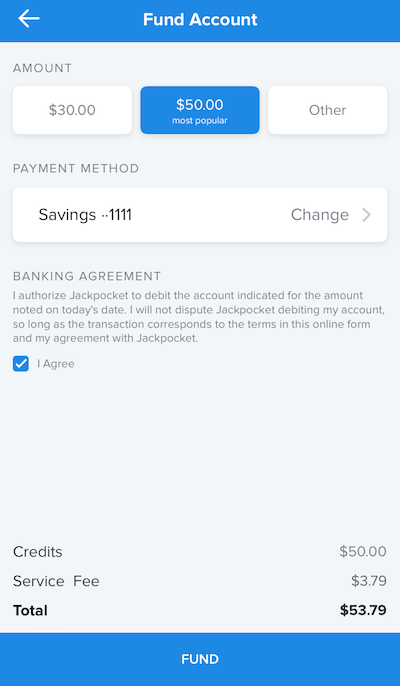 Got questions?
We've got answers! Reach out to support@jackpocket.com. We also cover common questions about the app in our FAQ.