Just over a week ago, Jackpocket journeyed down to Atlanta, GA where the 28th annual NASPL (North American Association of State and Provincial Lotteries) Conference was being hosted. Determined to make a splash, we decided to bring a piece of NYC to the trade show floor, by promoting our "Built in Brooklyn" brand. As a result, NASPL turned out to be a huge success for Jackpocket. In addition to networking with some of the most prominent industry leaders, we also established ourselves as an innovator that can help bring the lottery to the future.
The Road to NASPL: Building Our Booth
For weeks leading up to the conference, the team worked hard to create a show booth that would reflect our "Built in Brooklyn" vision. The first piece of the puzzle was a modular backdrop that would serve as the structure of our city landscape. A flawless in-house design matched with experienced vendors resulted in a beautiful modular structure that relayed our vision.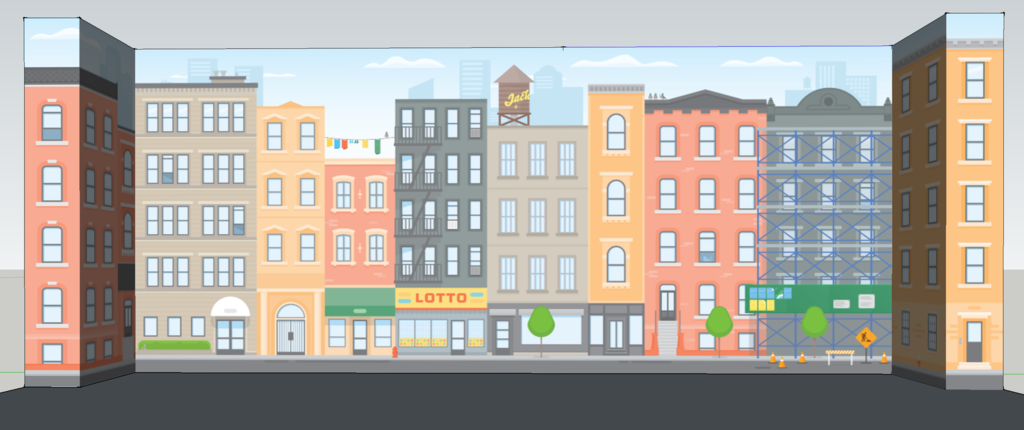 The second part of our NASPL booth was building a NYC news stand. We found a local NYC carpenter who could adhere to the strict parameters of our vision and construct it in time for our departure. After applying wall decals as finishing touches, the news stand was nothing less than a spot-on replica.
The remaining items for the booth included custom vinyl (sidewalk) flooring which was printed by local Atlanta vendors, and a makeshift island countertop. The countertop was built at Jackpocket HQ by cutting the top out of a traffic cone and inserting an adjustable tabletop inside. The tabletop would serve as a focal point for demoing the app at the trade show.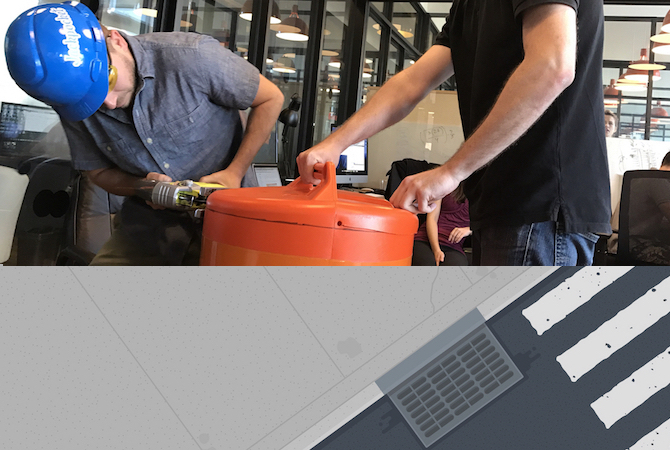 The team was now ready to venture down south to Atlanta, in proper startup fashion!
The Road to NASPL: Travel & Set Up
As a small company, we were intent from Day 1 to pinch pennies and attend NASPL on a budget that would give us creative freedom while being financially resourceful.
In order to save money on shipping, we opted to rent a Uhaul cargo trailer and drive all the booth items down. Not only did this save money on flights but also avoided costly shipping and drayage rates. The team loaded up the trailer on Saturday, and on Sunday morning embarked on the 13-hour drive. After a long day behind the wheel (and one all-you-can-eat Chinese Buffet), we stayed at a hotel in the outskirts of Atlanta. The following day we arrived at the conference center with ample time to set up and get situated.
NASPL 2016: Trade Show & Honorable Mention
The NASPL 2016 Conference took place at the Georgia World Congress Center, a large convention center in the heart of downtown Atlanta. From Tuesday — Thursday, the event center was buzzing with NASPL attendees, filtering in and out of keynote speeches, breakout sessions, and the trade show itself. The trade show was a great experience, giving us the opportunity to network with state lotteries while promoting our brand and sharing how Jackpocket is building a "lottery for the future."
One of the most notable takeaways from the conference was being mentioned by two highly esteemed industry leaders on separate occasions. The first instance where Jackpocket was mentioned was on the second day of the conference in Cathy Brown's (Managing Director, TPN) keynote speech on "Retailer Innovations". It was truly a delight to be recognized in her speech, as a positive influence on modernizing the affairs of current and future operations.
Finally, on the last day of the conference Jackpocket was mentioned again during Kathryn M. Cleary's (Vice President, MasterCard: Emerging Vertical and Acceptance) closing remarks. As a company striving for innovation, we were honored to be mentioned as an example of one of the most innovative companies to attend NASPL '16!
NASPL 2016: Demo Apps
To accompany the booth, we wanted to showcase some of the awesome new features brewing in the Jackpocket Lab over the past weeks.
Amazon Echo — The first demo app we chose to showcase was Amazon Echo. The Echo demo gives users the ability to play draw games and check results hands-free by speaking to Amazon's Echo device. By connecting the Echo device to the Jackpocket database, NASPL attendees can ask Alexa for jackpot amounts, draw results, and even to make a play. Alexa would respond promptly with the correct jackpot amount, lottery results and/or a successful quick pick with the numbers selected.
In-Store Redemptions — The second feature we chose to showcase at NASPL was in-store cash redemptions for winning tickets. The in-store cash redemption feature allows users to select "cash" as an option for withdrawing winning ticket credits through the app. Upon selecting this option, first Jackpocket stores your winning ticket in your apple wallet. Next, the app actually informs the winner of the closest retailers where he/she may go to scan their ticket barcode and actually redeem their winnings in cash from a licensed retailer. Not only does this give users the option to immediately redeem winning tickets for cash, but it also facilitates foot traffic to local retailers, optimizing their local businesses.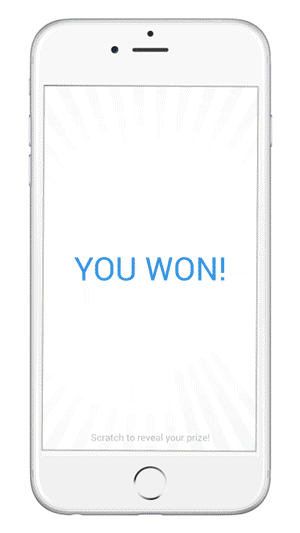 NASPL 2016: Takeaways
The success of NASPL 2016 marked a pivotal step for Jackpocket, establishing us as a major player in the future of the lottery industry. The ability to exhibit our "Built in Brooklyn" brand along with being recognized as a prominent innovator by industry leaders was truly an honor. We'd like to thank Kathryn Cleary & Cathy Brown for mentioning us in their keynote addresses, words can't describe how humbled the team is by your confidence in Jackpocket!
Finally, we'd like to thank the Georgia Lottery for hosting such a successful event, see you in Portland, OR next year!
Thank you,
— Jackpocket Team